A 'classic' pair of shorts to accommodate a tucked-in top, fitted waistband (i.e. no elastic!) with a rtw 'look' has been on my wish list for some time..... and in this pair my wish has come true.
In the
2018 June Burda issue
, Burda shows both of their finished shorts,
Burda 06/2018 #105A
and
Burda 06/2018 #105B
, made in Boucle fabric..... so at first this pattern was sort of by-passed as boucle just doesn't fit into my lifestyle.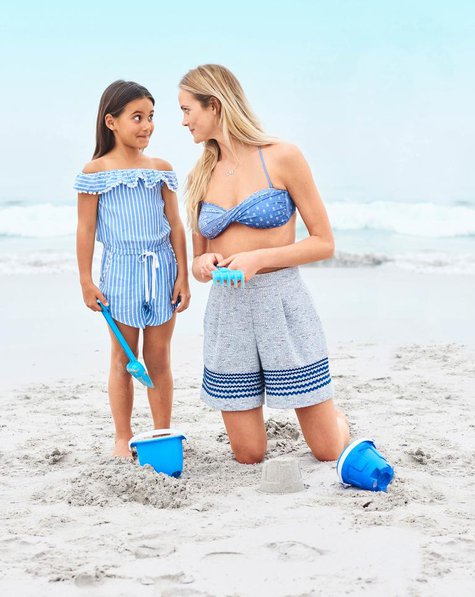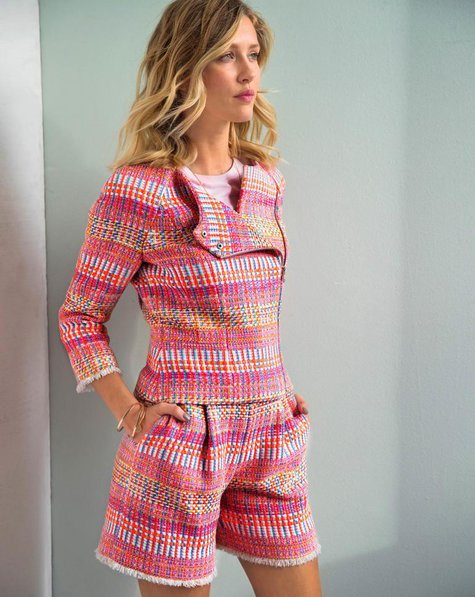 But when I took a closer look at the line drawing, it seemed this would be a great classic shorts pattern. Period. With pleats in the front, darts in the back, nice pockets, straight fitted waistband, side invisible zip with a nice flare and length, this pattern seemed like it should fit my body shape well. A long time ago I had some rtw shorts made similar to this.
As I've been wearing the white
Itch to Stitch Belize Shorts
almost every.day and have a little more of that fabric, figured this pattern would look great in the white brushed cotton twill. Not having a lot of experience in fitting a fitted pair of bottoms, decided to make a muslin with a WalMart fabric that's been in the stash for a while. Looks like a floral linen, but don't think it is. It was a dream to sew.
What is funny is that I was so concerned about the fitting process..... and there was none. Other than the usual grading from a size 36 waist to size 38 hips the fit was perfect for me. Total Shock! In a good way.
Even the backside fit spot-on perfectly without grabbing my behind. A usual problem.
If I had thought the muslin would be this wearable, I would've taken a little more time with fabric pattern placement. Not keen on the large blue flowers repeating so close together there in the front.... but overall guess it's okay.
Completely forgot to pay attention to the waistband seam lining up on the invisible zipper installation and thought about redoing it.... you know those old perfectionist tendencies.... but had a good talk to myself and said it was okay. And it is okay. The zip went in with no buckles or puckers..... even at the bottom which is where my usual problems occur. Very happy. By the way... love these pockets!!! These are my favorite type of pockets and Burda provided them nice and deep.
Back view. Here you can sort of see that the back waistband is shorter in overall width than the front. See how the front sort of wraps around there. LOVE this! The small of my back is so narrow and always a problem with clothes fitting properly.... so this hugs my back well, yet has enough room in the back crotch area to not grab or pinch the derriere. Another problem I usually have.
Inside out..... found a soft floral cotton in the stash and cut the waistband in half so this would be against my skin. Such a pleasure adding these little touches. May I also say how super proud I am of the interior stitching on this waistband. I took my time and pinned v.e.r.y carefully before top-stitching down and it came out very nice and even.
Also trying to show how Burda incorporates the pockets into the center front seam. All lies nice and flat and these pockets don't move around in an unsightly way. Also had fun loading my serger with different colored threads. Seams are sewn then serged. Hems are double-needled top-stitched.
First of all kind of amazed I actually made a June garment, from the June 2018 Burda issue, in June! That's pretty fast work for me. And another is that this is my second Burda make for June. So I'm adding that to the
2018 Burda Challenge
for me.
Overall this project was a skillbuilder in a stress-free way and a pleasant process. Took maybe an afternoon to complete. Now I'm ready to cut into the white brushed cotton twill. Meanwhile feel like I've got some sort of 'bonus' shorts to wear! Wearing the
Ottobre Sculpture asymetrical top out of white linen
with it here. Love this top and love it even more now that I have a pair of shorts to be able to tuck it in.
*EDITED TO ADD*: I've made a 2nd pair of shorts, using this pattern, out of brushed white twill (almost a denim) weight) you can read about
here
. Wearing it with a new
Burda top
.
Happy Sewing All! :)